The Top Tweets From SIFMA's 2014 Private Client Conference in New York
Financial professionals from all over the world gathered in New York, New York for the 2014 SIFMA Private Client Conference to learn about effective strategies to help investors achieve their financial goals.
Industry leaders from global, regional and small firms met to discuss new approaches and successful strategies and leadership.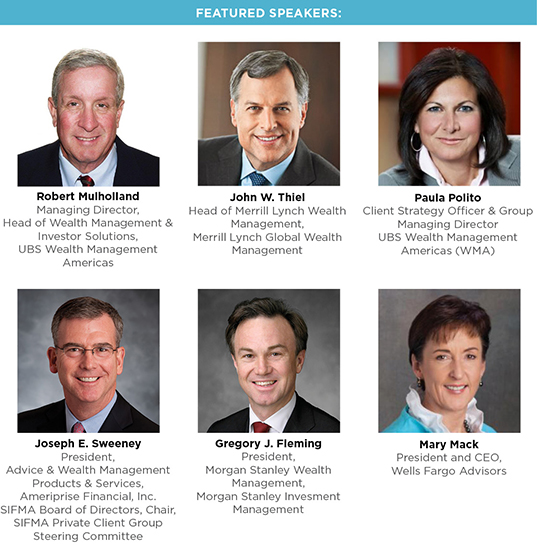 Of the speakers, Hearsay Social CEO and founder Clara Shih talked about how social media and big data are transforming the private client experience.
Over 1 billion people today look to Facebook and Twitter for news, ideas, and recommendations. At the same time, people broadcast life events every day via social media – events that are important for FAs to engage with their clients on.
Financial Social Media Stats
I wasn't in attendance for the conference but saw updates through the #SIFMA twitter hashtag. Activity appeared to increase with sessions that mentioned social media. But some of the information that was coming out was great.
Below are some stats that I found interesting:
Social media use growing in client relations with 75% of financial advisors using social media for business.
Private Client: 61% of advisors in 2013 landed a client via LinkedIn.
80% of Millennials use social media, this is just one aspect that will impact how they want financial advice
61% of Millennials prefer video meeting versus meeting in person.
#SIFMA Top Tweets
Here is what some of the conference attendees tweeted using the hashtag #SIFMA during the east coast conference:
Don't miss @SIFMA Private Client conference on Thursday & hear industry leaders http://t.co/bqj5IJg1ix #SIFMA

— IN Events (@eventsfromIN) April 9, 2014
The wealth management industry at a turning point. Great insights heading into #SIFMA Private Client Conf @newsfromIN http://t.co/6BKayQYBEs

— Gary Liu (@garycliu) April 10, 2014
Advisers need to be talking to boomer clients about the needs of their children and parents says UBS' Bob Mulholland at #SIFMA

— Mason (@masonbraswell) April 10, 2014
Keep calm and FB twitter LinkedIn on! #SIFMA Private Client Conf w @socialware at @GrandHyattNYC pic.twitter.com/yCgnHgpmxN

— Joyce Sullivan (@JoyceMSullivan) April 10, 2014
Huge focus on how to change/improve client communications in a 24/7 online world #sifma

— Ron Piovesan (@ronpiovesan) April 10, 2014
#sifma Every 2 days, we produce the amount of information produced from the beginning of time-2003; how to sift through & make sense of it?

— Scott Montigelli (@scottmonti) April 10, 2014
Working with GenX, Millennials is all about FAs understanding need to work w/clients on their terms: @WellsFargo Brand Meyers #SIFMA

— WealthManagement.com (@wealth_mgmt) April 10, 2014
Why care about GenX/Y clients? Valerie Brown says she's heard there are as many GenX/Y millionaires as there are Boomer millionaires #sifma

— WealthManagement.com (@wealth_mgmt) April 10, 2014
@CeteraFinancial Brown: How can you tell #Millenials don't trust the market? 52% keep savings in cash, earning nothing #SIFMA

— SIFMA (@SIFMA) April 10, 2014
The FA of the future will truly be mobile. Presentations, etc. taking place outside the office -Jeff Tucker, Merrill Lynch. #SIFMA

— Mason (@masonbraswell) April 10, 2014
"Social media is the key communication channel," says @clarashih at #SIFMA Private Client Conference @onwallstreet

— Andrew Welsch (@AndrewWelsch) April 10, 2014
"Advisers are using social media to invest in the future," Hearsay Social CEO Clara Shih at #SIFMA Private Client Conference.

— Joyce Hanson (@joycehanson) April 10, 2014
"We have to meet the client where they are – and that's online" says @clarashih of @hearsaysocial, to #SIFMA @onwallstreet

— Andrew Welsch (@AndrewWelsch) April 10, 2014
Social media use growing in client relations. 75% financial advisors use social media for business. #SIFMA

— Carol (@caroldanko) April 10, 2014
More from Hearsay Social's Clara Shih at #SIFMA Private Client: 61% of advisers in 2013 landed a client via LinkedIn.

— Joyce Hanson (@joycehanson) April 10, 2014
Providing advice beyond investments.. Social is where clients want to communicate says @MikeRJF #SIFMA

— Kristin Shevis (@SheviNY) April 10, 2014
5 Social Media Essentials for Advisors http://t.co/i1JRiPkmyf #SIFMA Private Client Conference

— Gary Liu (@garycliu) April 10, 2014
Wkg w/Millennials reqs advisers to find new ways to connect, says Brand Meyer @WellsFargo. Ppl want flexibility, online solutions. #SIFMA

— Darla Mercado (@Darla_Mercado) April 10, 2014
Decades of wealth transfer to young affluent are ahead. They tend to not stay w/their parents' advisers, says Valerie Brown, Cetera. #SIFMA

— Darla Mercado (@Darla_Mercado) April 10, 2014
3 best practices for advisors to use social media to enhance client experience while balancing personal side. #SIFMA http://t.co/VBA18AsxTQ

— Gary Liu (@garycliu) April 10, 2014
RT @VictorGaxiola @caroldanko: "Social media use growing in client relations. 75% financial advisors use social media for business. #SIFMA"

— Financial Soc Media (@FinSocMedia) April 10, 2014
Greg Fleming @MorganStanley says marco investing environment can be summed up in one word: 'constructive' #sifma

— WealthManagement.com (@wealth_mgmt) April 10, 2014
80% of Millennials use social media, this is just one aspect that will impact how they want financial advice: @MorganStanley Fleming #SIFMA

— Megan Leonhardt (@Megan_Leonhardt) April 10, 2014
Women going to have impact on future of industry-over half of female wealth is unmanaged today @MorganStanley Fleming says #SIFMA

— WealthManagement.com (@wealth_mgmt) April 10, 2014
"90% of referrals come via Google search" Make sure your advisors can be on pg 1 by being on social via @MikeRJF #SIFMA Private Client conf

— Gary Liu (@garycliu) April 10, 2014
84 percent of Millennials are seeking financial advice, says @MerrillLynch Steven Samuels #SIFMAprivateclient #SIFMA

— Megan Leonhardt (@Megan_Leonhardt) April 10, 2014
Did you know? 61% of Millennials prefer video meeting vs mtg in person via Millennial Investor Panel at #SIFMA Private Client Conference

— Gary Liu (@garycliu) April 10, 2014
2/3 Millennials have similar values as parents, strongly aligned w/parents on financial issues and investing @MerrillLynch Liersch #SIFMA

— WealthManagement.com (@wealth_mgmt) April 10, 2014
Social media hasn't changed the way FAs do business, it's changed the way we communicate with clients @MorganStanley Evan Steinburg #SIFMA

— WealthManagement.com (@wealth_mgmt) April 10, 2014
Our study shows Millennials want advisors who speak their values, Merrill's Michael Liersh tells #SIFMA panel. pic.twitter.com/UFQ4iPjcnI

— Andrew Welsch (@AndrewWelsch) April 10, 2014
"The best way to grow our business is to take care of the client," says Mary Mack, pres. of Wells Fargo Advisors pic.twitter.com/hMfZbalZx3

— Andrew Welsch (@AndrewWelsch) April 10, 2014
Communications strategies, interactive strategies have got to change @WellsFargo Mary Mack says #SIFMA

— WealthManagement.com (@wealth_mgmt) April 10, 2014
Racquel Oden, Merrill Lynch: Next gen familiar with social media, but we can teach them how to use it as a business development tool #SIFMA

— Christina Nelson (@NelsoninNewYork) April 10, 2014
It's a wrap! Thanks @SIFMA for great #SIFMA private client conference. You too, @GrandHyattNYC! Well done! See you soon c @socialware

— Joyce Sullivan (@JoyceMSullivan) April 10, 2014